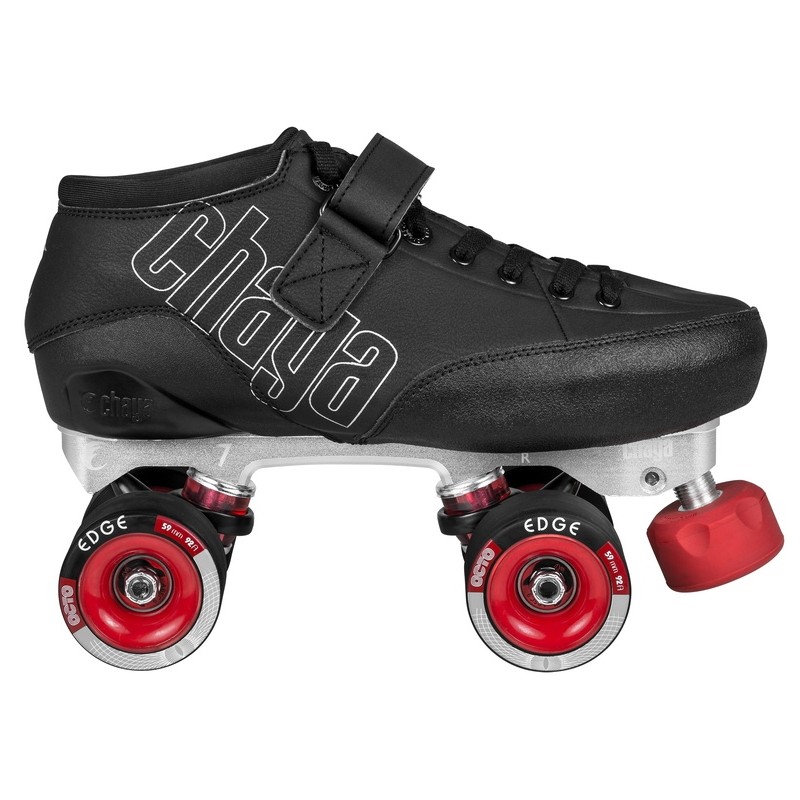  
CHAYA TOPAZ
Performance package at a low price
Popular and approved roller derby brand CHAYA offers a large range of roller quad skates for all level and budget. Available on your shop myrollerderby.
 The Chaya Topaz is a high performance package at a fraction of the price it worsts. The low-cut boot features an extremely durable, responsive and lightweight composite heat moldable shell (carbon free). The flex cut shell and pain free technology paired with high end padding materials offers unparalleled fit and performance.
The boot is loved for its low cut look and feel that ensures increased freedom of ankle movement. Featuring a 45º strap with a 'from the box fit' means less time breaking in and more time focusing on your game. Unlike ordinary derby skates the Topaz features a DCM 2-point mounting system allowing you to adjust the position of your plate front to back and from side to side, in order to truly suit your skating style and optimize your performance. Paired with OCTO Edge wheels and WICKED ABEC 9 freespin bearings the Topaz takes your game to a new level. The Topaz is an indestructible boot that will last you multiple seasons.
Boot/shell: The shell is made out of nylon and fiberglass, high cut boot
Frame: Zena plate made out of aluminium, standard trucks and dual center mounting
Wheels: OCTO Wheel 59x38mm/ 92A
Bearings: Wicked bearings ABEC 9
WARNING: Chaya size small! Remember to check your size via the guide in the "attached documents". Take one size above your usual size.
.
Frequently purchased together

Products from the same brand