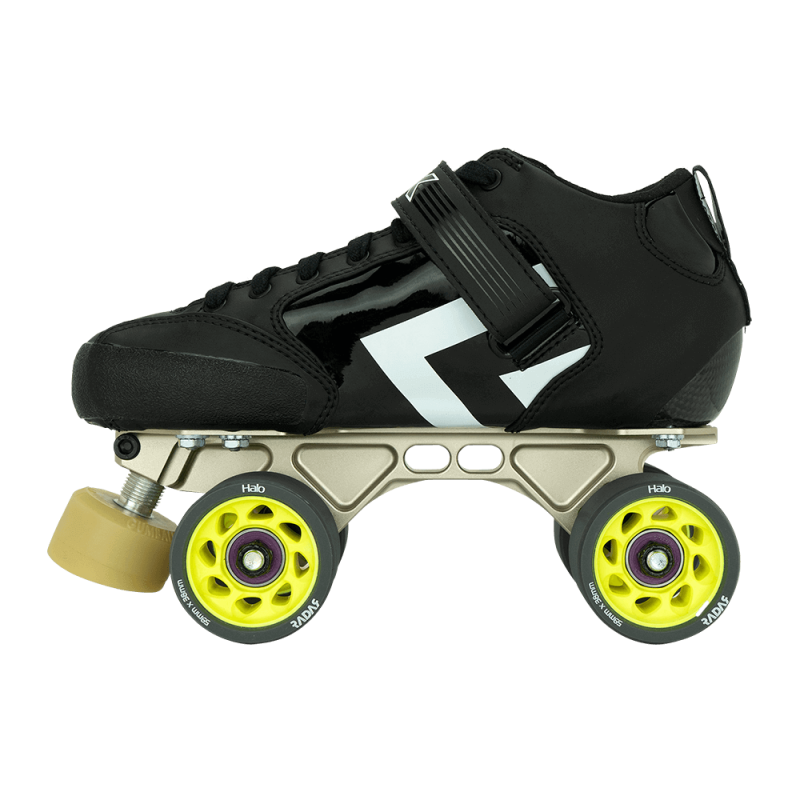  
ANTIK JET CARBON - SKATE SET
ANTIK JET CARBON PERFORMANCE SKATE SET
The Antik Jet Carbon Set is an ultralight performance derby skate package for the most dedicated derby athletes. When it comes to your passions, make no compromises. The set comes fully assembled and ready to hit the track with PowerDyne Arius Platinum plates, Radar Halo wheels (choice of hardness), Moto Deluxe bearings, and Gumball Original toe stops.
- Updated with fresh new graphics and a back finger loop pull tab, the Antik Jet Carbon is back and ready to hit the track. The full carbon outsole offers unparalleled response in a feather-light package. A lower ankle height increases mobility and Velcro synch strap helps secure the foot inside the boot. The Jet Carbon is fully heat moldable for the ultimate customized fit.
- The PowerDyne Arius Platinum takes the roller skate plate to the next level.  The Arius Platinum features the same revolutionary design as the original Arius with upgrades in key areas that improve performance and ease-of-use. To start, the toe stop bolt is now found at the very front of the Arius Platinum, instead of behind the toe stop. This provides greater clamping power for secure stops, starts and other toe stop maneuvers. The trucks of the Arius Platinum also receive a significant update, with a "winged" truck body that securely holds the Split Butterfly Cushions in place with no need for any other stabilization or adjustment hardware. Finished in a brilliant platinum gold color, the Arius Platinum is lighter, stronger, more stable, more powerful, more maneuverable, more durable and more efficient than any other plate available today.
- The shockingly lightweight Radar Halo features our innovative, signature H-shaped hub. The inner and outer edges of the hub are oversized, which reduces the amount of urethane on the edges of the wheel. This makes it easy to perform stops and offers excellent response. The middle of the hub has room for more urethane, which offers grip, increases control, and improves ride. Set up with MOTO DELUXE BEARINGS.
- Gumball Toe Stops offer the ultimate stopping power, giving you the best control for your skating. Different surfaces? No problem. Gumball toe stops feature a proprietary rubber blend and classic Gumball shape making them perfect for indoor, outdoor, roller rinks, skate parks, concrete, wood, sports tile, and masonry.
Frequently purchased together

Products from the same brand