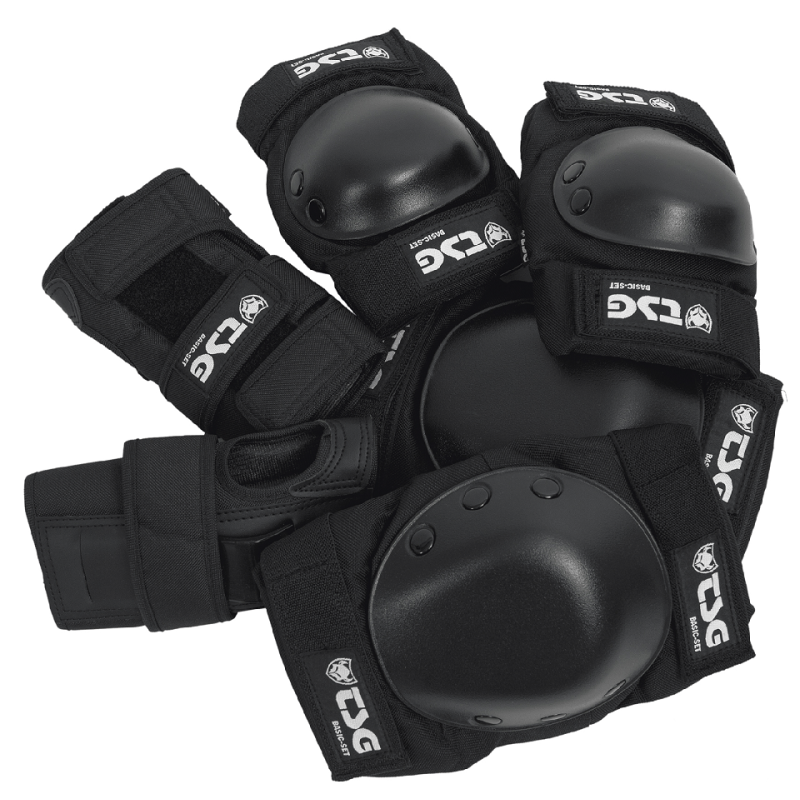  
TSG PROTECTION BASIC SET
Full set of protection at an unbeatable price 
We have selected some of the best brand of protective gears for our roller quad and derby shop in France and Europe. 
TSG is worldwide famous brand specialized in protective gears for extreme sport like roller derby. It has developped specific roller derby protection to keep the players safe on the track. 
TSG BASIC SET includes comfortable and reliable kneepad, elbow pad and wrist guard. It is perfect for beginners and good deal lovers, to start playing roller derby safely.
The KNEEPAD and ELBOW are made with EVA foam and PE caps to provide protection. The wrist guard minimizes mouvement with 3 full straps and absorb shock with  replaceable palm splint. 
FEATURES :
EVA FOAM
PRE SHAPED DESIGN
HORSESHOE SHAPE
TOP/BOTTOM 360 ° STRAPS
MATERIAL : Polyethylene, EVA, 600D Polyester,PU leather,32g tricot with sponge,600D Polyester+32g tricot+sponge,Elastic straps,Weaving fabric,Hook and Loop Fasteners,Metal rivet,Polyester
CERTIFICATION  : EN 14120:2003+A1:2007, Level 1
WEIGHT : 583 gr
SIZES : S / M / L
Frequently purchased together

Products from the same brand