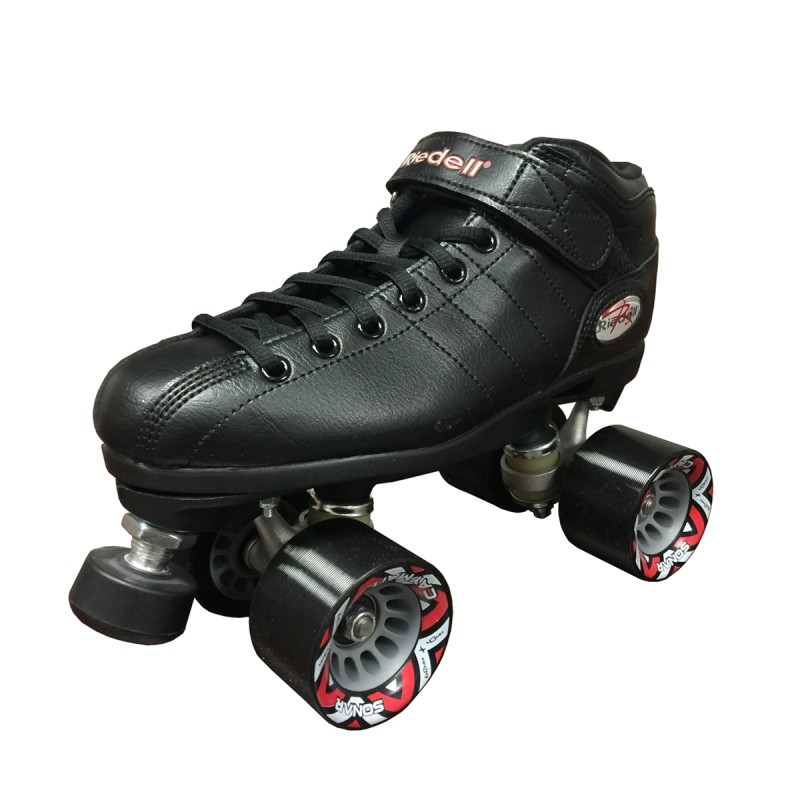  
RIEDELL R3 DERBY BLACK SET
Most popular roller skates to start roller derby 
Created by Paul Riedell in 1945 in the USA, the brand Riedell is a pionner in the market. It produces and offer only the finest top-quality, hand-crafted skating boots and has built a reputation for supplying the world's best roller derby skates with exceptional fit and comfort.
Myrollerderby offers Riedell entry level class R3 Derby Roller Skates Set, the better option for freshmeat and people to get started in roller derby. A favorite with skaters since the very beginning of roller derby in USA, the R3 boot is made of a special grade of durable vinyl and has been designed with Riedell well known boot-making process experience. A black tough scuff leather toe caps has been added to prevent abrasion. The reinforced Powerdyne Thrust nylon plates gives a very firm base to the whole set and will allow you to have maximum stability to keep you on your feet for your first years practicing. The Black Sonar Cayman are ordinary wheels with a good grip that fit most indoors surfaces. 
Features : 
Boots: R3 Black en Nylon
Plates : PowerDyne Thrust Nylon
Wheels  : Black Sonar Cayman wheels
Bearings : ABEC-5
Stoppers : PowerDyne Adjustable Black
Riedell don't do half-size for R3 DERBY BLACK SET. Check out the attached file to pick your size. 
4  = 36 EUR = 228mm 
5  = 37 EUR = 236mm 
6  = 38 EUR = 245mm 
7  = 39,5 EUR = 253mm 
8  = 41 EUR = 262mm 
Frequently purchased together

Products from the same brand