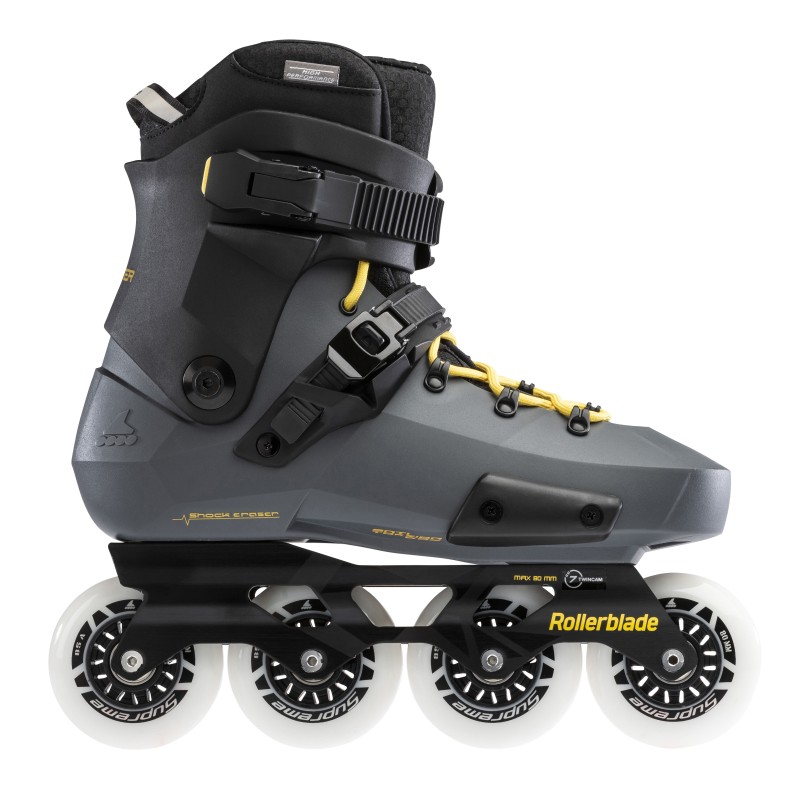  
ROLLERBLADE TWISTER EDGE
THE Urban skates by ROLLERBLADE

ROLLERBLADE Twister EDGE is a durable urban skate that also has plenty of features to ensure comfort and stability on city streets. The all new fit features a modified, lighter shell and a footboard sizer, which allows skaters to ensure a performance fit. The Skate Liner Plus with Performance Skate Insole Plus improves the skate stance and skateability with upgraded cushioning, improved wrapping, more breathability and shock-absorbing padding in the heel. The V-cut liner ensures additional range of motion while the Comfort Flex Tongue facilitates support and flex. The secure closure system includes a locking cuff buckle, 45 degree micro-buckle and extended lacing into the liner; Anti-Torsion Box technology utilizes aluminum plates and team up with the 243mm alu frames for maximum power transfer and control. 80mm Hydrogen wheels paired with ILQ-9 Classic Plus bearings provide excellent grip and speed. The Twister Edge is an excellent combination of premium fit, superior support and advanced maneuverability for every urban skater.
GENERAL USE DESCRIPTION:
THIS SKATE IS FOR - Urban, fitness, commuting and recreational skating. The modified shell, reimagined liner, two in one sizing with Footboard Sizer and premium components will satisfy the needs of skaters of all abilities.
SKATE LINER PLUS PROVIDES A TRUE PREMIUM FIT FOR SKATING with its new padding design and anatomical fit. The new Comfort Flex tongue makes skating more comfortable with its cushioned wings and reinforced median bar to wrap around the shin better for improved flex and control while maintaining its shape consistently.
SECURE CLOSURE SYSTEM - Locking cuff buckles, micro-adjustable 45° buckles and lacing through the shell and liner cuff help get the custom precise fit.
EXTRUDED ALUMINUM FRAME - Superior 243mm/10"/9.6", 255mm/10" (sizes 29.0-31.0), racing axles, laterally adjustable.

ELITE-PERFORMANCE HYDROGEN WHEELS - 80mm/85A wheels made in USA with proprietary urethane formula for ultimate performance, less vibration and excellent wear; Twincam ILQ-9 Classic Plus bearings maximize speed.


CLOSURE: Locking cuff buckle, micro adj 45° buckle, laces
SHELL/UPPER: Twister, molded, vented, V-cut, lateral slider, Shock Eraser, Anti-Torsion Box, 3WD Ready
WHEEL: Hydrogen Spectre 80mm/85A Made in USA
FRAME: Extruded Alu (max 80mm) 243mm/9.6", 255mm/10" (sizes 29.0-31.0), racing axles, laterally adjustable
BEARING: Twincam ILQ-9 Classic Plus
LINER: Skate Liner Plus, anatomical padding, Control Flex tongue, heel cup and ankle pockets, sublimated lining, stretch toe box, V-cut, PSI Plus footbed, Footboard Sizer for fit adjustment, cuff eyelets


Frequently purchased together

Products from the same brand